KIMINOI SHUZO

Kiminoi won the Gold Medal at
"the 2006 Joy of Sake competition event" in US.


Kiminoi Shuzo(Present)
---
Kiminoi Shuzo was founded in 1842 by the Tanaka family.
The toji (master sake brewer), Hiroshi Hayatsu has been working at Kiminoi for more than 30 years perfecting his craft. Kiminoi sake brewery is a mid-sized brewery that has integrated modern sake production techniques with very traditional methods of making sake.

During the Edo period local Shogun would stop at Kiminoi in Myokou city as it was a way-station for rest, food and sake on the way to ancient Tokyo.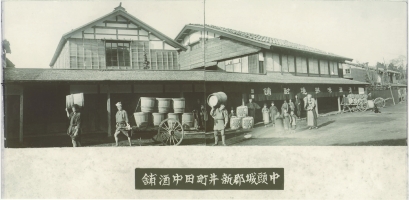 Kiminoi Shuzo in 1890's



During the Meiji period, the Emperor would come from Tokyo to visit Myokou and pray at the temple located next to Kiminoi. He would sample the local cuisine while enjoying the sake produced by Kiminoi and the brewery became well known for this honor. Kiminoi became known as the "Emperor's Well" due to this distinction.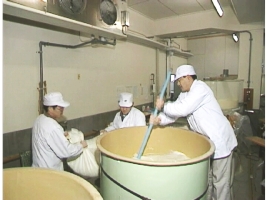 traditional "yamahai" method


The master brewer at Kiminoi uses the traditional "yamahai" method of preparing the yeast starter for the fermentation process. This ancient and labor intensive production method creates deep, rich and full bodied sake Kiminoi combination of state of the art production technology, such as precise computer controlled rice milling machines, along with time honored, traditional methods is a hallmark of this sake brewery.

In 1935 Kiminoi brewery was recognized for its outstanding sake by the awarding of the Gold Medal for being the #1 sake in Japan. In honor of this prestigious award the label of Kiminoi "Emperor's Well" Junmai Ginjo is decorated with a distinctive gold label. The fine quality of this Niigata sake producer continues to be recognized as Kiminoi won the Gold Medal for its Junmai Ginjo sakeat the 2006 Joy of Sake competition event held annually in the United States.


| | |
| --- | --- |
| Producer name: | Kiminoi [keemi-noy] Shuzo |
| Founded: | 1842 |
| Owned by: | Tanaka Family |
| Location: | 3-11, Shimomachi, Myokou-shi, Niigata 944-0048, JAPAN |
| Website: | http://www.kiminoi.co.jp (Japanese) |